Switzerland Christmas Holidays 2022/2023
Festive Switzerland
Celebrate the Swiss way this festive season

Usher in the festive season amidst picturesque locales and a whole lot of snow. Enjoy Christmas Day in idyllic Leysin or the postcard village of Grindelwald, taking in the best of Switzerland's charm. Dense forests, crystal-clear lakes and fresh mountain air: as a travel destination, Switzerland offers not only pristine nature but also safety. .Our partners at Swiss Tourism have worked hard to get hotel, restaurant and tour providers on board - taking special measures to protect their guests, ensuring every stay in Switzerland is a joy.
Switzerland Christmas Tours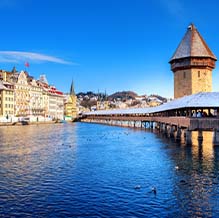 The snowy climes of the Swiss Alps are surely one of the most Christmassy places on the planet – and medieval Lucerne is the ideal base for exploring them.
6 days from £2,249

9 days from £2,495 per person
Discover striking wintry scenery, glamorous towns and cities, and unforgettable festive rail journeys - including a journey through the snow-capped Alps on the iconic Glacier Express.

7 days from £1,995 per person
Experience an unforgettable Christmas as you soak up the views from the highest train station in Europe, ascend the mighty Schilthorn, and enjoy a carriage ride through charming Grindelwald.

7 days from £1,395PP
Discover the spectacular and remarkable beauty of the Swiss Alps at one of the most wonderful times of the year on this all inclusive rail adventure to the highest railway station in Europe.
Book Your Swizerland Christmas Holiday Online Today